Straight talk promotes dialogue
and better decisions

As consultants, we give you professional advice that adds measurable value to your decision processes. It is one thing to have a clear overview of your organisation's level of risk, but another thing entirely to translate this knowledge into action.
We have a strong team of experts who can help develop, design, implement and maintain the safety initiatives you make decisions about. We use the necessary tools, depending on the scope and nature of the project, to ensure that we find the best solutions for your organisation.
Our experience has also shown that there can be an imbalance between reality and management's perception of reality. This is an untenable situation, and as consultants we take pride in documenting and presenting our honest opinions and clear recommendations.
We will not just tell you what we think you want to hear, but rather what we observe and recommend. This approach creates a basis for informed dialogue and better decisions.

Safety is also about efficiency
Insecure employees are more stressed and often have higher rates of sick leave than average – and they are less efficient on the job. Safety is therefore not only about minimising the risk of various types of accident, but also very much about efficiency. The Copenhagen Risk & Safety Group can help identify and unlock the potential of your organisation – for example, through competency development for employees, optimising procedures or investing in recommended aids.
Risk analysis
A risk analysis from the Copenhagen Risk & Safety Group gives you a clear picture of the risks that exist in your organisation. A professional risk analysis provides the best basis for making the best choices.
Risk assessment
Copenhagen Risk & Safety Group helps you to establish appropriate criteria for your accepted level of risks. Your risk assessment will consist of a comparison between your company's risk picture and your own criteria for accepted risks. If you find a mismatch between the risk picture and your own criteria for accepted risks – then you should consider what strategies you will bring into play to change your risk picture to a desired level. Development and prioritisation of the necessary risk reduction measures is the essence of risk management.
Risk management and safety
Any effort to manage your risks should be a continuous process that is never left to pure chance. Copenhagen Risk & Safety Group helps you develop, prioritise and implement cost-effective strategies that you can use to continuously manage your company's risks. Copenhagen Risk & Safety Group makes use of a wide spectra of different risk management tools. We also help you to continuously keep your risk profile updated based on facts, knowledge and data.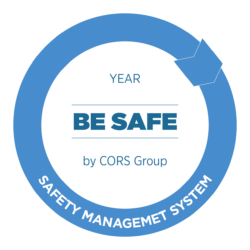 Copenhagen Risk & Safety Group's safety management system helps you to:
Save lives
Ensure the most safety for the money
Achieve transparent compliance
Scroll