Create a persistent focus
and strengthen your image

Improvements and good results require at least one thing: focus. It is therefore a good idea to create culture, habits and structures to promote continual work on minimising risks.
Certification of the company's high standards in the area of safety helps maintain focus on the ongoing work. Certification serves as an internal and external reference point. It makes working with established processes easier and more efficient, serves as a quality stamp, and forms part of the company's image.
The Copenhagen Risk & Safety Group offers three certification levels, all of which show that your organisation takes the safety of its employees, customers and assets seriously.
Parameters such as complexity, size, physical factors and risk profile help determine which level is relevant to a given organisation. We are happy to discuss which certification level matches your organisation, with no obligation to proceed.
Copenhagen Risk & Safety Group's certification is developed in collaboration with the Emergency and Risk Management programme at University College Copenhagen.
The A certification from Copenhagen Risk & Safety Group focuses especially on these three elements:
Management practice.
Plans.
Documentation.
To be A certified, the organisation must develop appropriate management practices for handling emergencies. This will include plans for how the organisation will respond to various types of emergency, and should be complemented by a satisfying level of documentation.
In the A certification there is a goal to create a dynamic framework for the organisation's own learning, as it is essential to ensure continuous development. A learning organisation is in a position to identify, prioritise and handle new challenges, which is extremely valuable – even when it comes to safety.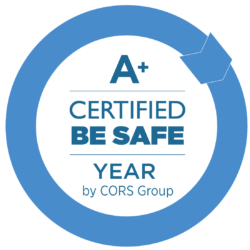 A+ certification requires the organisation to meet A certification standards. In addition, the focus of the A+ certification is on these three elements:
Visibility.

Equipment

.
Education.
To be A+ certified, the organisation must have an internal awareness and visibility on how it should respond to various emergency situations. A+ certification requires employees to have a fundamental knowledge of the emergency plans and the actions they should take in case of an emergency.
In addition there is a particular focus on the organisation's optimal use and development of equipment, and for that reason it has made a number of requirements for employee education for handling of risk-related events.
A++ certification requires the organisation to meet both A and A+ certification standards. In addition, A++ certification focuses on these elements:
Training.
Exercise.
Evaluation.
In an organisation that is aiming for an A++ certification, there are already plans and structures that identify and prioritise potential risk scenarios, and they describe the handling of these. The employees know how to behave before, during and after the events that are categorised as particularly important or likely.
To achieve an A++ certification, the organisation will have implemented a series of exercises that both coach probable and less probable events. The organisation develops its skills and becomes better equipped to anticipate new scenarios and make plans accordingly.
In addition, there is a strong focus on evaluation, which is important from a risk perspective and in relation to ensuring an efficient and profitable operation in the long term.
Scroll